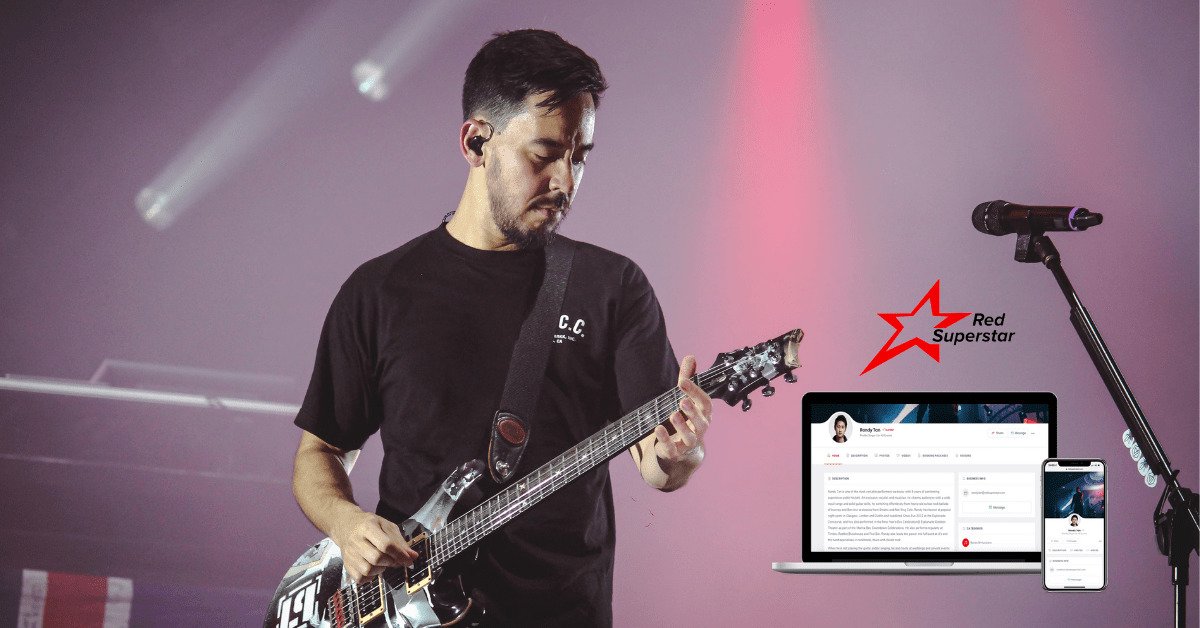 Top 10 Benefits For Listing On RedSuperstar
Our goal at RedSuperstar is to assist entertainers to connect with clients or event planners and help them get more bookings for their gigs. Our web site is a full-service booking platform that makes it convenient to for event planners or potential clients to book a gig directly on the site. With that in mind, we've created a user-friendly platform to help talented performers get more bookings for their gigs. By creating a listing on RedSuperstar, comes with a lot of advantages. Here are the top 10 benefits:
1. Marketing features
RedSuperstar listings are designed with photo and video capabilities. You can also integrate your Facebook account page onto our site to showcase the best promotional material directly in front of potential clients. In addition, your dashboard also shows your leads, messages, and bookings in one place together with analytics like visitor stats, revenue earned and other important data to help you manage your return on investment.
2. Building Connections
With RedSuperstar, you're getting more than simple, straightforward online profile. We do the work of finding event planners for you. Our platform allows you to list yourself in various entertainment categories, and with the assistance of search function, potential clients can easily search for you, base on their needs.
But how do I connect with people who aren't already looking for entertainment?
With a RedSuperstar listing page, you don't have to wait for potential clients to contact you. Your profile includes a feature for you to share your listing page proactively. Simply copy and paste the URL of your listing page to other social media platforms like facebook, instagram etc. Alternatively, there is also a share button on your listing page where you or other users can also help share your profile online. Our reach covers all of Singapore through a combination of digital, event, and on-the-ground marketing. Now more than ever, people are seeing the value of experiences over material things. With our efforts, we're able to reach a wide audience to show how booking quality entertainment is money well spent.
3. Top-of-the-line booking system
When you're tasked with promoting your business, networking, negotiating, managing your finances, and delivering your services, time is precious and you do not want to be born down by all these administrative issues. Our booking platform helps you save time with automated processes so that you can focus on your gig. Create standardised or customised quotes, confirm bookings, accept client payments and more in just a few easy steps!
But what if I want to use my own contract?
Marketplaces are becoming the first place to find and secure services of all kinds, and this is changing the way people are booking entertainment, too. This means that making payments and drafting online agreements is now an accepted alternative to paper contracts and physical signatures. Therefore, you can state your own terms and agreements when you create your own booking package. Be sure to communicate this to your clients to avoid any dispute along the way. Our platform simplifies the booking process and provides both you and your clients benefits and protection you simply cannot get anywhere else.
Is there a fee to use the booking system?
Yes, there's a booking fee applied to bookings completed on RedSuperstar. This nominal fee allows us to offer guaranteed payments and cancellation protection and helps us keep the website updated with the best security measures possible. Keep in mind, a booking fee is only applied for each successful booking made through the site. You'll never be charged for receiving leads or sending quotes and messages.
But why do I even have to pay a booking fee on top of my membership cost?
Simply put, your membership fees pay for the benefits and exposure for your profile, but the booking fee covers the costs associated with bookings. The booking fee for paid members is ranged from 5%-12.5% depending on the membership plan you subscribe. This booking fee covers all credit card fees charged by our payment processors and other administrative fees to keep our site sustainable.
4. Guaranteed payments
For most businesses, the most crucial and difficult process for businesses is usually the collection of payments. Based on our own knowledge, we discovered that booking entertainment is no different. That's why we've simplified the process for clients, allowing them to pay via credit card or bank transfer online. This makes it easy for clients to make payments for services offered by the service provider. And once a booking is made easy, clients will be inclined to book more often.
Another benefit of using Redsuperstar to sell your services is that you're guaranteed to get all the money that's owed to you. No more waiting weeks for a check in the mail or hassling for payment at the event. We take care of the financials for you, therefore, you can focus on the gig and clients can sit back and enjoy their event.
5. Fast payout option
Basically, you'll receive your payment 1 business day after the event. Once a client books your services, all payments are going to be sent one business day once the gig is successfully completed.
But what if I want to pay my employees or band members before the event?
We understand that some of our members require payment in full prior to the event and for those members, getting balance payments 1 business day after the event makes things difficult. However, sending full payments before a gig is successfully completed means that we can't offer our Worry-Free Guarantee to clients, a benefit that helps you get more bookings. It's also important to remember that your payment is guaranteed so even if you're receiving your payment later than you're used to, you know you'll get all the money that's owed to you. When clients pay your total fee at the time of booking, it cuts out unnecessary steps for both parties and eliminates the risk of miscommunication. If you require deposits to be released, feel free to contact us so we can learn more about your situation.
6. Review system
Reviews are becoming an important part of the buying process these days. Research suggests that 9 out of 10 online consumers will look at a company's reviews before making a purchase. We understand the value reviews, which is why our platform allows you to collect and display reviews from clients and shows a cumulative star rating on your listing page.
For those of you who don't have a lot of time to request reviews, when your client book on RedSuperstar, we do the work for you. Starting the day after the event, we follow up with your client and request reviews on your behalf, freeing you up to focus on your next gig.
Can any of my past clients leave a review on my listing page or just clients who booked me on RedSuperstar?
The reviews that show in your listing page can come from any of your past clients, but in order for us to import in these reviews, we need your past invoice and client's details to verify the booking. There is also a 3% fee applied on your past invoice if you want your past invoice reviews to be considered. This is to cover our administrative cost and protect businesses from any unfair practices. When gigs are booked through our platform, we're able to match the review to the correct booking and verify that it's real. Reviews not only increase your chances for leads, but they also help you stand out among the competition.
7. Superior protection
We are committed to creating a safe community not only for our members but for your clients as well. That's why we utilise the best security measures to keep personal information. When you fill in your credit card or bank details on RedSuperstar for transactions, rest assured your sensitive banking information is extremely secured. RedSuperstar website uses SSL which stands for Secure Sockets Layer, an encryption technology that creates an encrypted connection between you and our server. This means that your private information is transmitted without the problems of eavesdropping, data tampering, and message forgery.
8. Recognition for Top Performers
Each month, we award our outstanding members a Top Performer status based on your bookings, response time, and reviews, and feature your listing under 'Popular Listings' for potential clients to see. As a Top Performer, you'll see a number of benefits including an increase in leads and improvement in search rankings. We also feature our top performers on our blog and social media accounts. This free publicity will boost your incoming leads and generate revenue for your business.
What if I don't book on RedSuperstar, but my bookings, reviews, and response rate are great?
To achieve Top Performer status, we must be able to verify all three of these factors, so we make determinations based on your RedSuperstar activity. You may be getting a lot of work outside of our platform, but you can only be featured by being active on RedSuperstar.
9. Advanced design with your clients in mind
Not everyone is a web designer and few can afford to hire one. But with all the content on the web these days, if your online profile is not visually appealing, you risk losing potential clients. With a RedSuperstar listing page, you are set up with a profile that has everything a client needs. We deploy the best practices for navigation and user experience.
Our platform is designed by a team of experts who not only understand the value of a sleek, mobile-friendly website but also know the importance of search engine optimization. We've worked hard to establish ourselves in a complex and noisy world wide web. We continuously research and implement the best marketing strategies to promote our talents online. By being a part of our community, you can leave your online marketing strategy to us and considerably boost your gig opportunities.
I think my website is better and I'd rather get gigs my own way.
If you've got a website for your business and you're successfully getting gigs, that's terrific! But if you're ever looking for ways to increase your exposure, then you may think about giving our platform a try. SEO is crucial and we work extremely hard to ensure event planners looking to hire entertainment and services are able to find RedSuperstar at the top of their Google search results. So having a listing on our site can often bring you gig leads and opportunities you may not get through your own site.
10. One-on-one support
Our Customer Happiness team is devoted to our community, so whenever you need us, our team will be there to support you. If a client dispute arises, our platform allows us to reference important details so we can mediate any miscommunications and help find a solution. If you are experiencing technical issues and you need some assistance, we are just an email away. Or if you'd like someone to look over your listing page and give you some actionable steps for improvement, reach out to us for a free profile consultation. We are here to help our members and event planners in any way we can.
Not a part of RedSuperstar yet? Join today and get paid to do what you love.